How to Make Delicious Mimosa Cake
Mimosa Cake.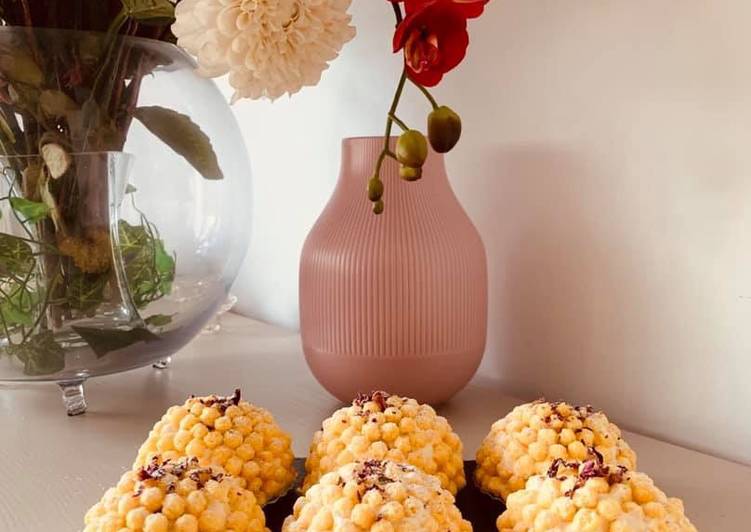 You can have Mimosa Cake using 20 ingredients and 7 steps. Here is how you cook it.
Ingredients of Mimosa Cake
You need of Per il PAN DI SPAGNA SENZA GLUTINE DI IGINIO MASSARI.
It's 250 g of uova intere a temperatura ambiente.
You need 75 gr of tuorli a temperatura ambiente.
You need 175 gr of zucchero di canna.
You need 63 gr of amido di riso.
You need 113 of fecola di patate.
It's 50 gr of burro non salato fuso.
It's 1/2 bacca of vaniglia.
Prepare 8 gr of lievito chimico in polvere.
It's of Per la NAMELAKA AL CIOCCOLATO BIANCO.
You need 200 gr of cioccolato bianco.
Prepare 120 ml of latte intero.
Prepare 6 gr of glucosio o miele.
You need 4 gr of gelatina.
It's 230 gr of panna fresca.
You need of Per la CREMA DIPLOMATICA.
You need 200 gr of crema pasticcera (ricetta di base di vostra preferenza).
It's 200 gr of panna semi montata.
It's 4 gr of gelatina.
You need 1 scatola of piccola di ananas sciroppata.
Mimosa Cake step by step
Per prima cosa prepariamo la Namelaka che dovrà riposare almeno 12 ore in frigorifero: portare a primo bollore il latte e il glucosio o miele, versargli la gelatina pre idratata e versarlo sul cioccolato bianco a pezzetti, lasciarlo in infusione un minuto poi frullare con un minipimer, poi aggiungere la panna e frullare ancora, filtrare la crema in una ciotola, coprirla con della pellicola e farla riposare in frigo per almeno 12 ore.
Per la crema diplomatica con ananas : montare la panna semilucida non molto ferma, aggiungere la gelatina sciolta in una parte di panna al microonde, unire la crema pasticcera fredda ed infine i dadini di ananas sciroppata, che deve essere integrata al composto con una spatola di gomma e metterla in frigo fino all'uso..
Per il Pan di Spagna senza Glutine: montare le uova intere e i tuorli con lo zucchero in planetaria con la frusta per una ventina di minuti, aggiungere la fecola, l'amido e la vaniglia ed amalgamare con la spatola delicatamente dal basso verso l'alto.
Riempire a 3/4 delle forme mezze sfera di silicone e cuocere per 20 minuti a 180 gradi, poi far raffreddare le mezze sfere a temperatura ambiente su una gratella.
Creare un incavo dal basso delle semi sfere abbastanza grande per farcirle con la crema diplomatica all'ananas e chiuderle con il pan di spagna rimosso sbriciolato..
Spalmare l'intera mezza sfera con la namelaka al cioccolato bianco e coprire tutta la superficie con le palline di mais al miele,?qualche petalo di rosa essiccata e mimosa candita..
Finalizzare con una leggera spolverata di zucchero a velo.