Recipe: Delicious Pastiera Napoletana ricetta di Sal de Riso
Pastiera Napoletana ricetta di Sal de Riso.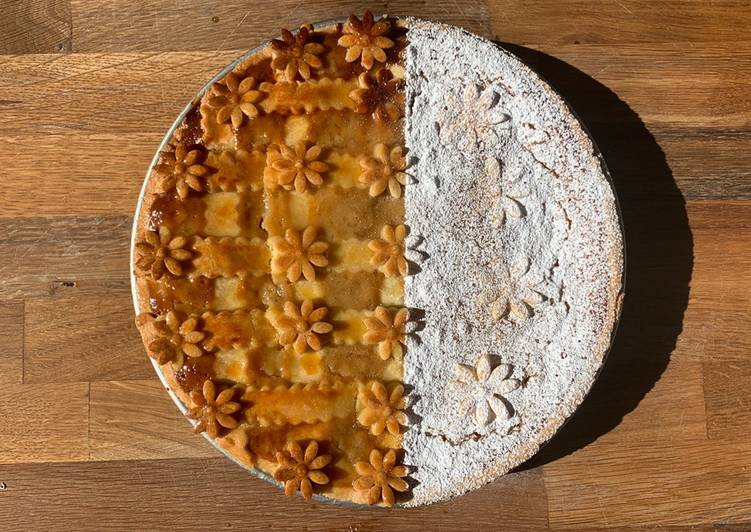 You can have Pastiera Napoletana ricetta di Sal de Riso using 18 ingredients and 9 steps. Here is how you achieve that.
Ingredients of Pastiera Napoletana ricetta di Sal de Riso
Prepare of PER LA PASTA FROLLA di SEMOLA.
It's 500 gr of semola rimacinata di grano duro fine.
You need 175 gr of strutto o 250 gr di burro.
Prepare 170 gr of zucchero a velo.
Prepare 1 of uovo intero grande.
You need 1 of albume.
You need 1 of arancia la buccia grattugiata.
Prepare of Per il RIPIENO.
You need 250 gr of ricotta fresca.
Prepare 230 gr of zucchero di canna.
You need qb of Vaniglia.
Prepare 130 gr of crema pasticcera.
You need 310 gr of grano cotto.
Prepare 3 gr of sale.
It's 150 gr of scorze di arancia candite.
It's 155 gr of uova intere.
It's 180 ml of latte intero.
Prepare 1 of arancia la buccia grattugiata.
Pastiera Napoletana ricetta di Sal de Riso step by step
Per la Pasta Frolla di Semola: In un carter, io il Bimby, o a mano, disporre la farina a fontana, versarvi dentro burro (io lo strutto) a temperatura ambiente, zucchero, scorzetta d'arancia ed iniziare ad impastare..
Dopo qualche istante, aggiungere le uova 1 alla volta fino ad amalgamare l'impasto intorno al gancio, circa 10 minuti, compattare la pasta e far riposare in frigorifero almeno 8 ore. Io l'ho conservata un giorno per l'altro.
Per il Ripieno: Prendi il grano cotto, fallo rinvenire 10 minuti in un pentolino con latte e lascialo raffreddare..
In un contenitore unisci ricotta, zucchero, crema pasticcera, arancia candita, grano cotto, uova già sbattute, cannella, essenza di fiori d'arancio e, se vuoi una pastiera particolarmente aromatica, scorza d'arancia e limone e un po' di vaniglia..
Amalgama bene tutti gli ingredienti.
Stendi la pasta frolla alla semola in una forma per pastiera o da crostata e riempi l'incavo con il ripieno al grano.
Decora la superficie della pastiera con strisce di pasta frolla larghe circa 1 centimetro, intrecciandole in modo da formare dei rombi, io l'ho decorata per metà con striscioline con dei fiorellini di pasta frolla.
Cuoci in forno a 170°C per 60 minuti. La pastiera napoletana cuocendo si gonfierà, ma tornerà a dimensioni normali una volta che si sarà raffreddata..
Ho poi spennellato della gelatina all'albicocca sulla parte decorata, mentre ho spolverato con dello zucchero a velo la parte del ripieno a vista..