Easiest Way to Cook Tasty Zabaione Ingabbiato
Zabaione Ingabbiato.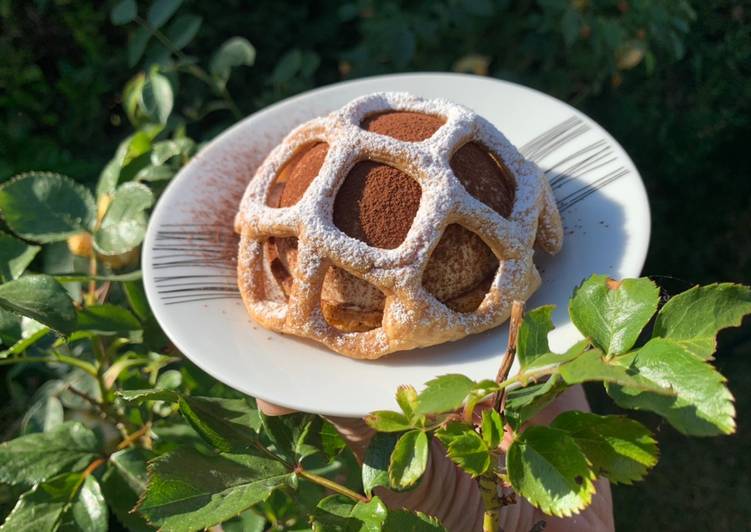 You can cook Zabaione Ingabbiato using 13 ingredients and 18 steps. Here is how you achieve that.
Ingredients of Zabaione Ingabbiato
Prepare of Per lo zabaione.
You need 120 gr of tuorli.
You need 120 gr of zucchero di canna.
It's 100 ml of Passito di Pantelleria.
It's 400 gr of panna fresca.
Prepare 100 gr of crema di arachidi artigianale.
You need 2 fogli of gelatina (5 gr).
You need 12 of dischi di pasta frolla bretone vedi la mia ricetta nel link in descrizione.
It's 12 of gusci di macarons vegani.
You need of Per le Gabbie di Pasta Sfoglia.
It's 2 of dischi di pasta sfoglia.
It's Qb of zucchero a velo.
You need Qb of cacao in polvere.
Zabaione Ingabbiato instructions
Per la pasta frolla Bretone : il link della ricetta Tarte Tatin dove c'è la preparazione.
Https://cookpad.com/it/ricette/12118288-tarte-tatin-di-christophe-michalak?via=profile.
.
Per la preparazione dello zabaione ho utilizzato il Bimby versando nel boccale con la farfalla i tuorli e lo zucchero e montare per 5 minuti a 37 gradi a vel. 3, poi unire il Passito e far girare per 7 minuti a 70 gradi a vel. 3,.
Aggiungere la crema di arachidi e la gelatina pre idratata e far girare 30 secondi a vel. 3.
Versare lo zabaione in una ciotola e farla raffreddare, aggiungere in due volte la panna montata e mescolare dal basso verso l'alto delicatamente..
.
Trasferire il composto in una sac a poche e riempire le semisfere di silicone per metà, adagiare il guscio di un macaron vegano.
.
Link della mia ricetta https://cookpad.com/it/ricette/12408908-vegan-macarons-con-aquafaba?via=profile.
Coprire fino al bordo con la Crema allo Zabaione e passarle in frigo 30 minuti prima di congelarle per 6/8 ore.
Nel frattempo prepariamo le gabbie di sfoglia, stendere il disco di pasta sfoglia sull'apposito attrezzo forato e mettere in congelatore per 30 minuti, con un coppapasta delle dimensioni di 10 cm tagliare dei dischetti traforati.
Adagiarli sulla semisfera di silicone, vedi foto, spolverizzarle con dello zucchero a velo e cuocerli in forno statico preriscaldato a 180 gradi fino a doratura, circa 20/25 minuti.
Lasciar raffreddare le cupolette di sfoglia su una gratella.
Smodellare le semisfere di semifreddo allo zabaione e adagiarli sui dischi di frolla.
Spolverare la semisfera con del cacao e coprirla con la gabbia di sfoglia spolverata con dello zucchero a velo.
Fateli scongelare lentamente in frigo per una mezz'ora.
Alcune gabbiette di sfoglia le ho spezzate in parte per far apparire il semifreddo e dargli un look differente.