How to Cook Delicious Focaccia Ripiena Senza Glutine
Focaccia Ripiena Senza Glutine.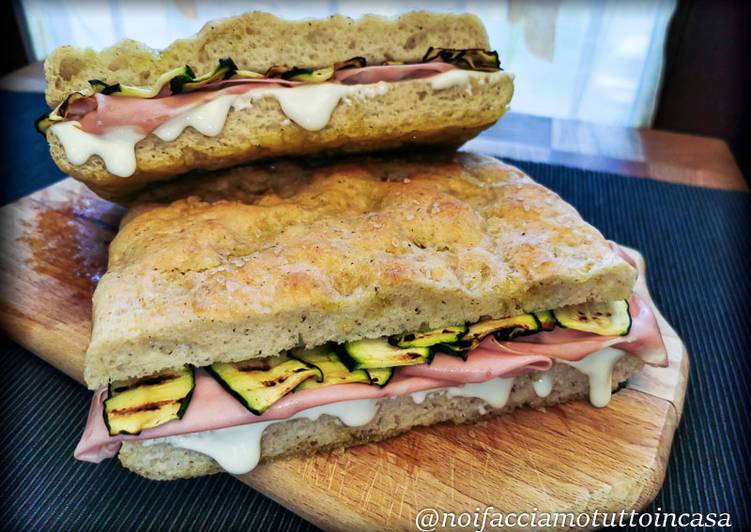 You can cook Focaccia Ripiena Senza Glutine using 4 ingredients and 4 steps. Here is how you cook it.
Ingredients of Focaccia Ripiena Senza Glutine
Prepare 1 of focaccia senza glutine (qui la ricetta).
It's 150-200 gr of Mortadella al Pistacchio.
You need 2-3 of zucchine.
It's 100 gr of Crema di Pecorino Sardo.
Focaccia Ripiena Senza Glutine instructions
La ricetta in questo caso è davvero semplice. L'unica preparazione che dovrete fare è grigliare le zucchine. Tagliate nel senso della lunghezza a fette sottili, meglio se con una mandolina allo spessore di circa 3 mm. Mettete sul fuoco una griglia e ungetela leggermente. Grigliate le zucchine girandole una sola volta. Man mano che le preparate mettetele da parte. Mi raccomando non salate altrimenti diventeranno mollicce, salerete solo all'ultimo..
Una volta che avrete terminato di grigliare le zucchine preparate la vostra Focaccia Ripiena Senza Glutine. Tagliatela la focaccia a metà nel senso dell'altezza. Prendete la Crema di Pecorino e create uno strato abbondante. A questo punto mettete la Mortadella, non siate parsimoniosi, è uno sgarro….e come tale deve essere abbondante :). in ultimo mettete uno strato di zucchine grigliate, se di vostro gradimento regolate di sale…..
Non vi resta che chiuderla con l'altro strato….potete gustarla fredda o scaldarla in piastra….noi abbiamo optato per il freddo…avevamo troppa voglia di mangiarla!.
Una focaccia davvero ben ottima, soffice e alta, con una farcitura che ci ha fatto leccare i baffi (e non solo!) dal primo all'ultimo boccone, un mix perfetto di ingredienti raccolti da una focaccia spettacolare! Speriamo di avervi deliziato con questa ricetta…e non vediamo l'ora di avere vostre opinioni! Buon appetito! Pierre e Vivy #noifacciamotuttoincasa.