Easiest Way to Make Delicious Das beste Flammkuchen Rezept!!!
Das beste Flammkuchen Rezept!!!.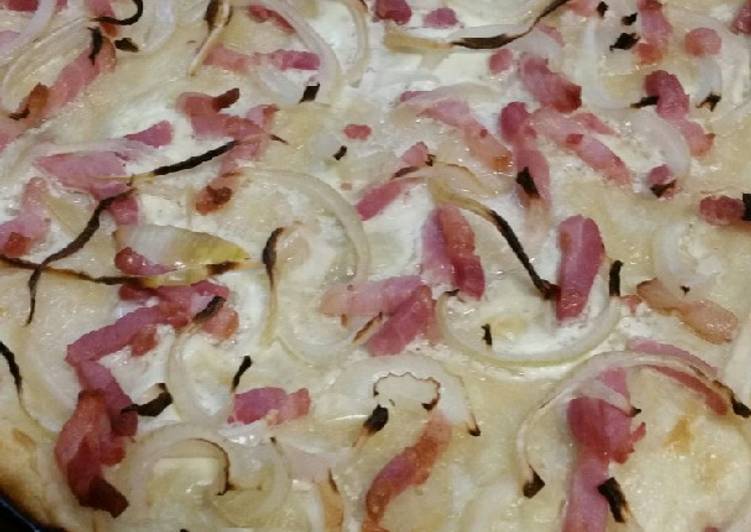 You can cook Das beste Flammkuchen Rezept!!! using 10 ingredients and 5 steps. Here is how you achieve that.
Ingredients of Das beste Flammkuchen Rezept!!!
Prepare 1/2 Würfel (21 g) of Hefe.
Prepare 1 TL of Zucker.
Prepare 600 g of Mehl.
Prepare 1 TL of Salz.
You need 6 EL of Öl.
You need 300 g of Zwiebeln.
It's 250 g of geräucherter durchwachsener Speck.
Prepare 250 g of Schmand.
You need 150g of Crème fraîche.
It's of weißer Pfeffer.
Das beste Flammkuchen Rezept!!! step by step
Hefe zerbröckeln und mit Zucker verrühren, bis die Hefe flüssig wird. Mehl, 1/2 Teelöffel Salz, Öl und 300 ml lauwarmes Wasser in eine Schüssel geben. Angerührte Hefe zugeben und sofort zu einem glatten Teig verkneten. Teig zugedeckt an einem warmen Ort ca. 30 Minuten gehen lassen..
In der Zwischenzeit Zwiebeln schälen, halbieren und in Ringe schneiden. Speck in Streifen schneiden. Schmand und Crème fraîche verrühren, mit Salz und Pfeffer würzen..
Hefeteig vierteln, nochmals durchkneten. Ein Viertel oval (35x 25 cm) ausrollen. Fettpfanne mit Backpapier auslegen. Teig hineinlegen. Ein Viertel der Schmand-Creme auf den Teig streichen..
Ein Viertel des Specks und Zwiebeln gleichmäßig darauf verteilen..
Im vorgeheizten Backofen Umluft: 225 °C 10-12 Minuten im unteren Einschub des Backofens backen. In der Zwischenzeit restlichen Teig und Belag genauso verarbeiten und backen. Fertigen Flammkuchen warm servieren. Guten Appetit!!!!.